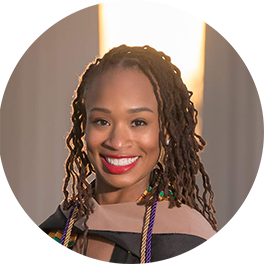 Jasmine Sadler wanted to be a photographer when she was in 8th grade. Then she discovered that as an engineer, she could not only take pictures, but design the camera too! She earned her undergraduate degree in Aerospace Engineering from the University of Michigan, and an MBA from Point Loma Nazarene University. Today she is the CEO of The STEAM Collaborative in San Diego, CA, an equitable science, technology, engineering, art and math education company. Jasmine's work inspires students to see the creativity and artistry in STE(A)M fields.
Read the Nautilus profile of Jasmine Sadler that inspired the following educational activities.
Take your students on a journey into the world of an aerospace engineer. Engage them in exploring Jasmine Sadler's pathway as an engineer and her work turning air into energy.
Click on the tiles below to explore lessons and resources.