Lyda Hill Philanthropies, Nautilus, and the American Geosciences Institute are proud to collaborate through Earth Science Week to advance the vision of IF/THEN®, an initiative of Lyda Hill Philanthropies in promoting girls and women in STEM (science, technology, engineering, and mathematics).
This project is funded as part of IF/THEN®, an initiative of the Lyda Hill Philanthropies, and celebrates a continuing emphasis for Earth Science Week with profiles of some of today's leading women geoscientists (see below).
Our hope is that these trailblazing scientists' stories provide inspiration to geoscience students, professionals, and enthusiasts everywhere. In addition, this website provides curriculum connections linked to profiles of women who are among today's leading geoscientists.
These activities serve as exciting "jumping-off points" for educators and students to further explore the geosciences — the infinite interactions of natural systems and processes that make up our geosphere, atmosphere, hydrosphere, and biosphere. Click on each scientist below to learn about her work and how you can explore related geoscience topics. See Nautilus: Geoscience Women in STEM to read detailed interviews with all four women, and watch NGSS-ESS Webinar: Promoting Diversity in the Geosciences - Meet the Geoscience Women in STEM to view a webinar on educational activities inspired by their work.
---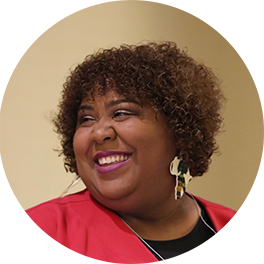 Jessica Esquivel
Particle Physicist
AAAS IF/THEN® Ambassador
Jessica is a Postdoctoral Research Associate at Fermi National Accelerator Laboratory researching the electron's heavier sibling, the muon.